Stop TTIP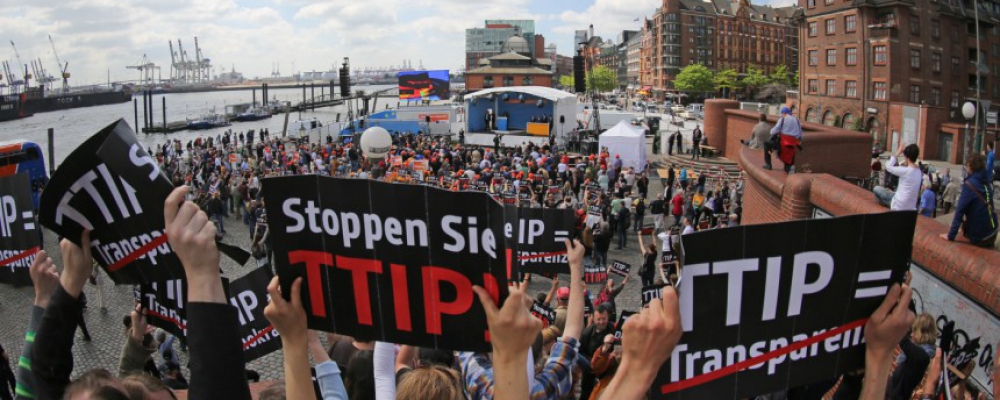 TTIP (Transatlantic Trade and Investment Partnership) is an agreement on trade and investments currently being negotiated between the US and the European Union. TTIP negotiations, which began in July 2013, are deliberately kept secret. The content, which relates to various sectors, from trade to local services to investments etc, represents an attempt to further erode the guarantees achieved over years of social struggles in the fields of labour rights, human rights, environmental protection, food security and democratic institutions.
Governments, big business and economic lobbies are trying, with the excuse of standardising laws, to set up a framework for massive deregulation, where the main objective will not be tariff barriers, which are already low enough, but rather non-tariff barriers, such as safety and quality standards in fundamental areas of citizens' lives: food, education and culture, health care services, social services, workplace protection and safety. If the Partnership were to be approved, all citizens and the environment would pay the price, in a process that will lead to the gradual commodification of public services and common goods.
Read more about TTIP here.
TTIP, point by point.
Food security: In the US, trade in genetically modified organisms (GMOs) is a widespread practice, as is the use of hormones and bovine growth promotors, considered carcinogens. If the deal is passed, the European market will have to open up to this type of product. 
Common goods and public services

: from water to energy, from transport to health, these areas would be turned from rights for all into business for big companies, with a strong push towards privatisation and access dependent on users' ability to pay.

Made in Italy

: the requirement to state the geographical origin of a product could be threatened by the economic interests of major US companies who wish to put products on the European market that 'have an Italian feel', such as 'Parmesan', despite the fact that they were not made in Italy nor made with Italian raw materials.

Environmental protection and health

: the import-export of shale gas extracted via fracking, in other words the hydraulic fracturing of underground rock, could become commonplace in Europe, with serious risk of pollution to the water table, subsidence of underground rock, explosions and earthquakes.

Privacy:

In order to stop potential abuses of intellectual property rights, users' privacy could be violated by gaining privileged access to personal data.

Workers' rights

: EU member states, including Italy, have implemented advanced legislation in the field of promoting and protecting workers' rights. The US, on the other hand, has ratified only 10% of the International Labour Organisation's (ILO) conventions.

National Sovereignty

: TTIP plans to set up an international arbitration mechanism, called the Investor-State Dispute Settlement (ISDS), that would allow a company to take a state to court and demand lavish compensation for having compromised or threatened their investments or trade interests.
The Stop TTIP Italy campaign
The campaign Stop TTIP Italy, begun in February 2014, brings together over 60 social organisations (including Terra Nuova), networks, committees and regions opposed to passing the Transatlantic Trade and Investment Partnership (TTIP). The full list of supporter organisations here.
What can you do?
If you are an association, a movement, a committee, a civic list standing for local election, a volunteer organisation: join the campaign by sending an email to stopttipitalia@gmail.com. If you are a citizen who is or wishes to become an activist: visit the website www.stop-ttip-italia.net, contact the local committee in your town, take part in upcoming initiatives and help us to spread the word about the treaty.
Source: http://stop-ttip-italia.net/