El Salvador, municipality of San Esteban Catarina: youth and women leaders for a sustainable future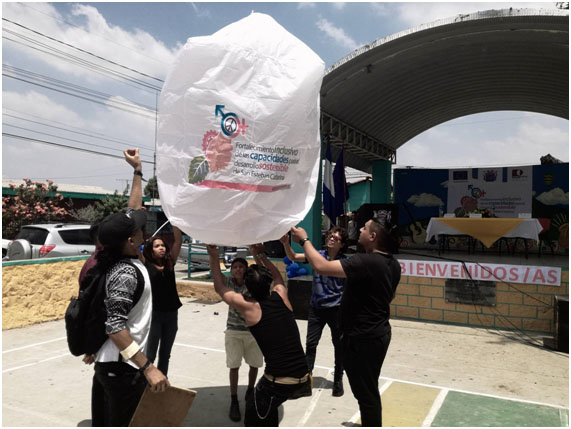 El Salvador, a geographically small country in Central America, has an extremely high population density comprised of younger demographics. Despite the fact that about 20% of the population is aged between 15 and 24 years old, El Salvador does not seem to be a welcoming "country for young people". In fact, almost 10 young people (between the ages of 18 and 35) out of every 1,000 migrates to the United States, Canada, and Europe to flee poverty, unemployment, and high levels of food security. A third of the population (840,000 children and 800,000 girls) are under the age of 14. While children this age should normally be in school, the children of the rural and "urban-marginal" municipalities of San Vicente and San Esteban Catarina, the poorest groups in the country, are excluded from the school system. With inequality and a lack of opportunities to engage, many of these children are constantly deprived and turn to recruitment and membership in local, criminal gangs. Known as "pandillas" or "maras", these youth gangs engage in brutal recruitment rituals and maintain tight control of entire neighborhoods. These gangs act as a criminal 'counter-power' against the state, extorting and managing drugs and money.
Despite the fact that El Salvador, as a country, is not engaged in a war, the country itself has one of the highest rates of violence. In 2015 alone, 103 people were killed per every 100,000 inhabitants; the highest rate in all of Central America. About 70 young people out of every 100,000 are killed as a result of violence from these youth gangs. The solution to this violence is neither simple or immediate. From individual municipalities, local citizens and governments must help rebuild social cohesion, employment opportunities, aggregation, and cultural stimuli.
Together, with Terra Nuova, a project beginning January 2017 is working to foster cultures of peace and non-violence amongst citizens, especially amongst the groups of the community that face the most violence and exclusion: women and children. The project, "Fortalecimiento inclusive de las capacidades para el desarrollo sostenible de San Esteban Catarina" is working to increase participation opportunities in local economic activities. Lasting 36 months, this project will actively work towards strengthening municipal actions aimed at preventing future acts of violence. Funded by the European Union, the project will have multiple sub-sets and sub-goals, mainly aimed towards helping women and children.
            The first part of the project has worked specifically with 700 local women and children through various training and orientation activities to help engage these people in local economic activities. More specifically, 75 individuals will be guided and accompanied in participating in micro-enterprises, holistic and cultural activities. The activities will focus on promoting agroecology among small local producers, also thanks to the collaboration of the Asociacion Nacional de Trabajadores Agropecuarios (national association of agro-zootechnical producers, ANTA, organization of small farmers affiliated internationally in La Via Campesina). The second sub-group of the project will work with 1,435 children between the ages of 0-15, 500 parents, 64 teachers, 5 educators, and 77 community managers and municipal staff to create and maintain equitable access to education, nutrition, and healthy environments that are conduicive to learning and local participation. This project will work within the "circular model assistance", creating "Family Circles" in nurseries and primary schools.
Help us to support this project with a donation!